Polarization maintaining (PM) fiber optical collimator (450nm 460nm 630nm 632nm 650nm 780nm 850nm 980nm 1064nm 1310nm 1550nm 2000nm) is used to launch a beam of light from an optical fiber into free space and then to capture that light and refocus it into the same or another fiber. By using Panda polarization maintaining fiber (PMF), the PM fiber collimator can maintain a well-defined state of polarization (SOP) of the light signals. They meet most demands with good performance over a wide temperature range. LFIBER's PM fiber optical collimators feature epoxy-free in the light path, low loss, high extinction ratio, high reliability qualification complying with GR-1221-Core standard. 

Related Products

↓
What Is a Polarization Maintaining (PM) Fiber Optical Collimator
In fiber optical systems, the PM fiber collimators (450 nm, 460 nm, 630 nm, 632 nm, 650 nm, 780 nm, 850 nm, 980 nm, 1064 nm, 1310 nm, 1550 nm, 2000 nm) are used to either couple light from free space into an optical fiber or collimating light from a fiber to form a "collimated" optical beam. At the same time, The PM fiber collimator can fully preserve the polarization of light. Most in-line PM fiber optical modules consist of two face-to-face PM fiber collimators and of functional elements, such as filters, polarizers, or crystals, inserted in the free space between them.
Structure of a PM Fiber Collimator (Polarization Maintaining Fiber Optical Collimators)
Figure 1 shows a structure of the actual Polarization Maintaining (PM) fiber collimator. One or two optical fibers are fixed into a glass capillary (ferrule) with epoxy adhesive, and its end facet is polished with 6 to 12° angles. The small gap between optical fiber and lens remains, with no epoxy in the optical path after all the parts are fixed with epoxy. 
In most cases, the basic structure of a PM fiber collimator (450nm 460nm 630nm 632nm 650nm 780nm 850nm 980nm 1064nm 1310nm 1550nm 2000nm) consists of at least a lens and an optical fiber. Lenses which can be used include fiber lenses, ball lenses, aspherical lenses, spherical singlets and doublets, GRIN (Graded Index) lenses, microscope objectives, or cylindrical lenses. Currently, most fiber collimators use Graded-Index, or GRIN, lenses, and shaped lenses, often called C-lenses. A C-lens is a miniature lens with similar performance as a GRIN lens but slightly better insertion loss, lower cost, and longer working distance compared to GRIN-lens optical collimators, so that C-lens optical collimators are more popular for micro-optic devices.
Polarization Maintaining (PM) Fiber Optical Collimator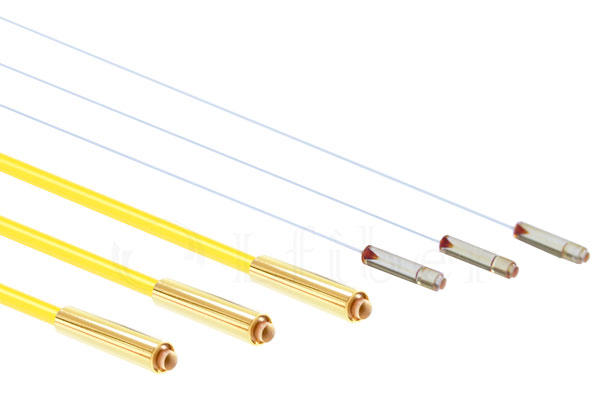 FEATURES OF POLARIZATION MAINTAINING (PM) FIBER OPTICAL COLLIMATOR
Low Insertion Loss

High Extinction Ratio (ER)

High Return Loss


GR-1221-Core Compliant
APPLICATIONS OF PM FIBER COLLIMATOR
Fiber-Optic Collimation and Focusing

Essential Elements for PM Optical Devices

Optical Communications Systems


Other PM Fiber Optical Applications
Specifications of the PM Fiber Collimator
Center Wavelength(nm)
450, 460
630, 632, 650
780
850
980
1064
1310, 1550
2000
Operating Wavelength Range (nm)
±20
±20
±20
±20
±20
±30
±50
±30
Insertion Loss (dB)
≤1.0
≤0.8
≤0.4
≤0.35
≤0.3
≤0.3
≤0.25
≤0.5
Extinction Ratio (dB)
≥20, ≥25, ≥30, ≥35
Working Distance (mm)
5, 10, 20; Others upon request
Fiber Type
Panda PM Fibers
Return Loss (dB)
≥55 (UPC), ≥60 (APC)
Operating Temperature (°C)
-5 to +70; Others upon request
Storage Temperature (°C)
-40 to +85
Package Dimensions (mm)
Φ3.20*L10 (metal housing, Φ1.8mm lens)
Φ2.78*L9 (glass housing, Φ1.8mm lens)
Φ1.80*L7 (metal housing, Φ1.0mm lens)
Φ1.40*L7 (glass housing, Φ1.0mm lens)
Notes:
For polarization maintaining (PM) fiber collimator with a connector, IL is 0.3 dB higher, RL is 5.0 dB lower, and ER will be 2.0 dB lower.

Insertion loss is measured through a PM fiber collimator pair.

Unless otherwise specified, the slow axis of the PM fiber is aligned with the key of the fiber connector.

Please specify the operating wavelength, working distance, extinction ratio requirements, housing type (package dimensions), fiber length, connector type, etc. in the orders. (See the ordering information section.)


This PM fiber collimator (high extinction ratio) is customizable, and the above specifications are subject to change without notice.
Package Dimensions of the PM Fiber Collimator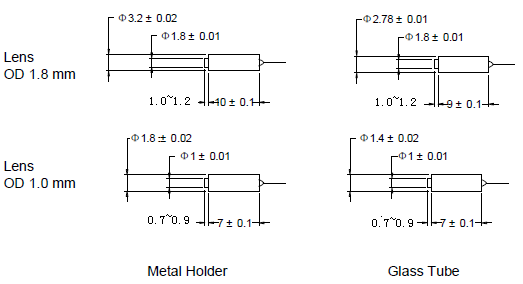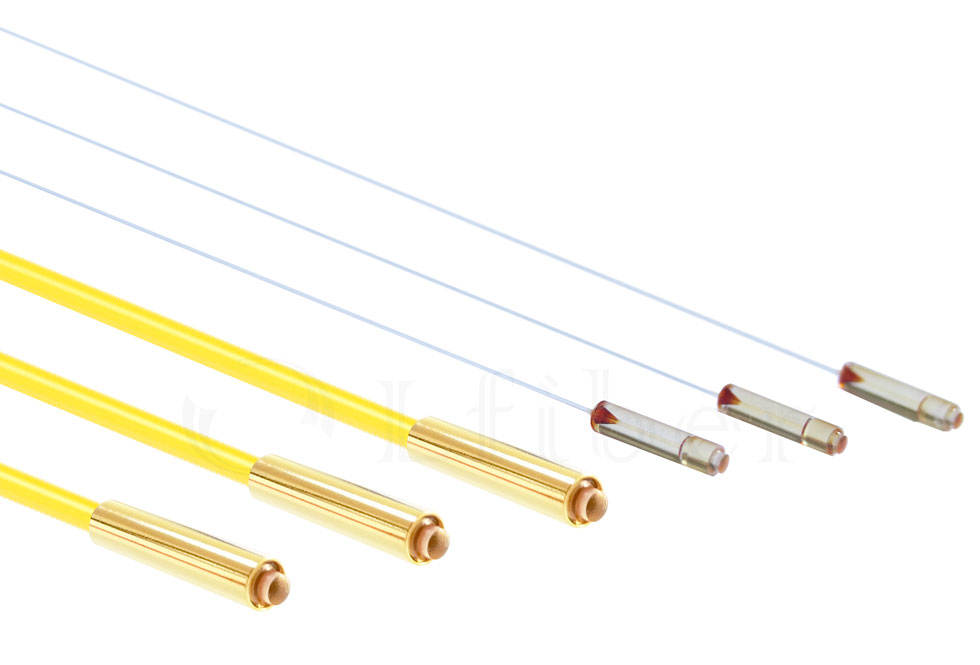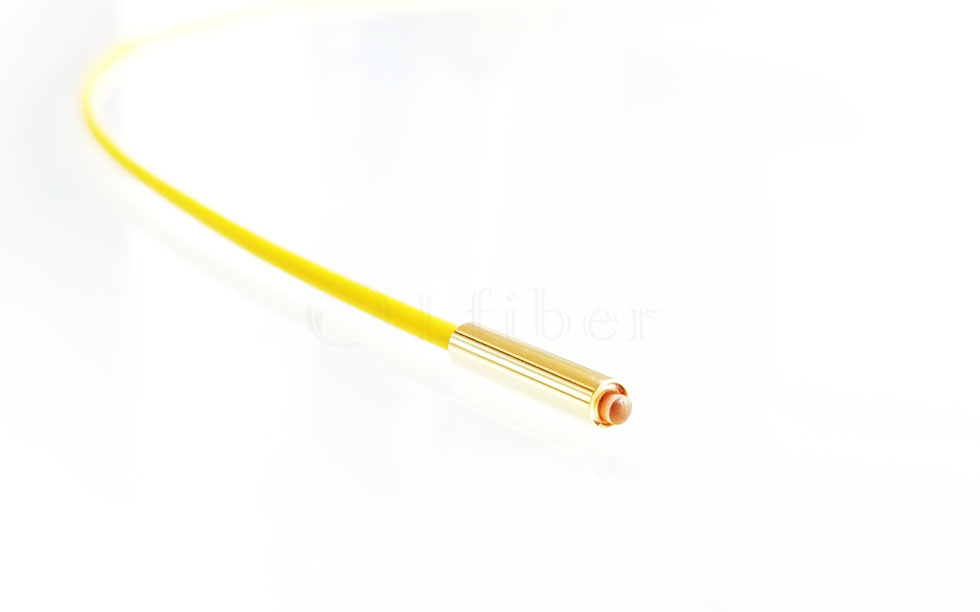 Ordering Information for PM Fiber Collimator
Wavelength
Working Distance
Extinction Ratio
Package Dimensions
Fiber Pigtail
Fiber Length
Connector
450 nm
5 mm
≥20
Φ3.20*L10 mm (metal)
Φ250μm bare fiber
(without jacket)
0.5 m
None
460 nm
10 mm
≥25
Φ2.78*L9 mm (glass)
Φ900μm loose tube
0.8 m
FC/UPC
630 nm
20 mm
≥30
Φ1.80*L7 mm (metal)
Φ2.0mm cable
1.0 m
FC/APC
632 nm
Others
≥35
Φ1.40*L7 mm (glass)
1.5 m
SC/UPC
650 nm
2.0 m
SC/APC
780 nm
Others
LC/UPC
850 nm
LC/APC
980 nm
Others
1064 nm
1310 nm
1550 nm
2000 nm