PM Fiber Switch (Polarization Maintaining Optical Switch) is a passive component that selectively transmits, redirects or blocks optical signals from a given input port to a given output port in an optical fiber transmission line. At the same time, by using Panda PM fibers it's able to maintain a well-defined state of polarization (SOP) of the light. Lfiber's mechanical PM fiber switch features less than 0.8 dB insertion loss, high extinction ratio, very low crosstalk, and fast switching time. These PM fiber switches have been widely used in a variety of fiber-optic applications, including protection, restoration, testing & measurement, and monitoring in telecom applications and many PM fiber-optic systems. 
Demand for Polarization Maintaining (PM) Fiber Switch
For PM-applications, polarization-maintaining fiber (PMF) is the optimal technical choice for high performance. Demand for multi-channel PM fiber switch is increasing because they allow smooth re-direction of optical fiber routing in response to changes in data traffic or network problems. In this way, they increase the efficiency of data transmission over optical broadband networks and test equipment.
PM Fiber Switch (Polarization Maintaining Fiber Optical Switch) 
The polarization maintaining optical fiber switch (PM fiber switch) is an important device for PM fiber-optic applications in optical communications, networks and system. 
The PM fiber switch optically switches fiber circuits without doing expensive optical-electronic-optical (OEO) conversions. These can reduce the cost of optic-optic network and increase fiber transmission capacity and, at the same time, distribute optical signals to different subscribers. The PM fiber switch only rearranges the physical fiber circuit so that such a switch is transparent to all protocols, data formats, and modulation formats.
Polarization Maintaining (PM) Fiber Switch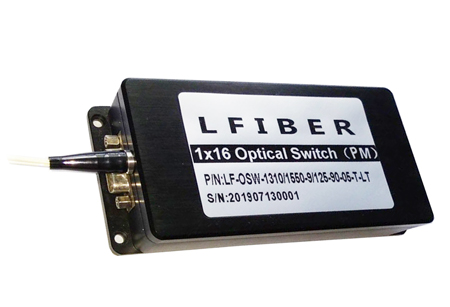 FEATURES OF PM FIBER SWITCH (POLARIZATION MAINTAINING OPTICAL SWITCH)
Low Insertion Loss and High Reliability

Serial Interface (RS-232)


Modularized Design

Epoxy-free on Optical Path

APPLICATIONS OF PM FIBER SWITCH (PM OPTICAL SWITCH)
Optical Signal Switching and Routing

Optical Network Monitoring

Testing of Fiber Optic Component


Military Communications