A fiber optic switch represents the single most dynamic element in an optical network which traditionally can switch data between different ports of a network. Lfiber's rackmount optical switch is a good choice for deployment in optical switching-based or demultiplexing-based systems, with some of them incorporated in commercial products.
1U/2U/3U/4U Rackmount Optical Switch (Rack Mounted Fiber Optic Switch)
Lfiber's 1xN rackmount optical switch comes with functions of breakdown self-checking & alarm warning. Its standard rack mount design and visual LCD display unit make it very convenient for maintenance and use. It features low loss and ultra-high reliability.
This rackmount optical switch is available in standard-sized 1/2/3/4/6U 19″ rack mount cases. Lfiber can provide customized designs to for specific applications. Also, we can offer modular assemblies that integrate other components to form a full function or subsystem according to customers request.
Principle and Function of Fiber Optic Switch
Lfiber's rackmount fiber optic switch functions by selectively switching a light signal delivered through an optical fiber or an integrated optical circuit to another. In essence, the switch is the control for making, breaking, or changing the connections within an optical circuit. As with any other type of switch, this optical switch has many uses. In summary, this optical switches can be used in a variety of applications, large and small. The use of a fiber optic switch allows data to be routed where and when it is needed.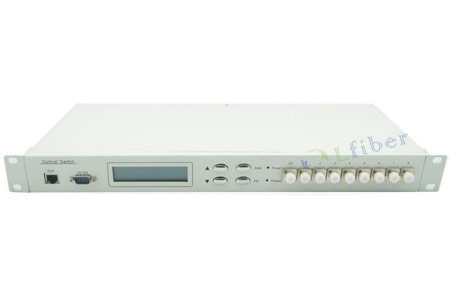 FEATURES of RACK MOUNTED FIBER OPTIC SWITCH
Low Loss and High Reliability

AC/DC Flexible Dual Power Supply

Parallel Interface (RS232, RJ45)

LCD Display Module for Light Path Status Displays


Breakdown Self-checking and Alarm Warning (LCD Display)
APPLICATIONS of RACKMOUNT FIBER OPTIC SWITCH
Optical Signal Switching and Routing

Optical Network Monitoring

Testing of Fiber Optic Component


Military Communications