The high power dual-stage optical isolator (1064nm, 1030nm, 980nm) is a polarization-independent fiber component that allows all polarized light (not just the light polarized in a specific direction) to propagate in one direction but blocks it in the opposite direction. In many applications, we are unable to control the polarization of input light. In cases like this a polarization independent optical fiber isolator (1064/1030/980nm) is needed. It is a key component to protect lasers, amplifiers and ASE sources from spurious back-reflected light that produces instabilities. 

Related Products

↓
Basics of Polarization-Independent Dual-Stage Optical Isolator
One serious drawback of dual-stage optical isolator using polarizers and a Faraday rotator is their polarization dependence. This issue will increase the insertion loss. Therefore, implementations of optical isolators without polarization dependence are very interesting for transmission systems. It is practicable to get a polarization-independent design by replacing the polarizers by polarizing splitters combiners: they divide the input light into two orthogonal states of polarization that go separately through the Faraday cell to experience isolation and that are recombined at the output.
Many practical applications in fiber optic systems require high-power polarization-independent dual-stage optical isolators (1064nm/1030nm/980nm), which allows inputs with any polarization direction to pass through without PDLs, and isolates the back reflections (return lights) at the same time.
It is no doubt that the high-power dual-stage optical isolator is an important component in optical systems. In summary, Lfiber's high-power dual-stage optical fiber isolators are used to ensure stabilization of laser transmitters and amplifiers as well as to maintain good transmission performance.
High-Power Dual-Stage Optical Isolator (1064nm, 1030nm, 980nm)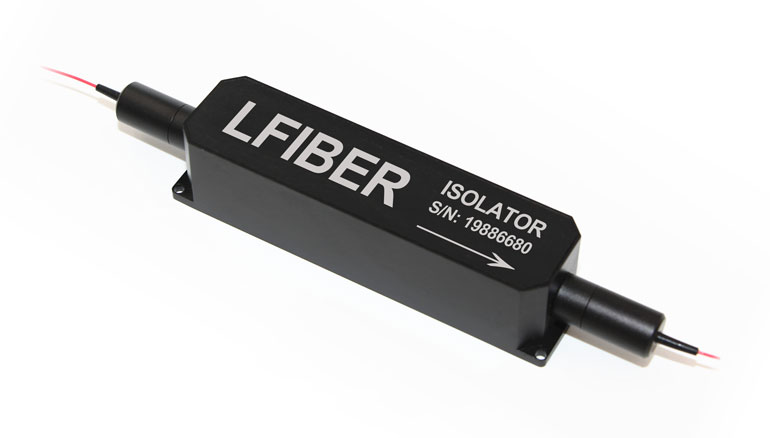 FEATURES OF DUAL-STAGE OPTICAL ISOLATOR
Polarization Independent

Low Insertion Loss

High Isolation and Return Loss


High Reliability and Stability



APPLICATIONS OF DUAL-STAGE OPTICAL ISOLATOR
Fiber Amplifier

Fiber Laser

Testing Instruments


Mopa Fiber Laser
Specifications of Dual-Stage Optical Isolator (Polarization-Independent)
Center Wavelength (nm)
1064 or 1030 or 980
Operating Wavelength Range (nm)
±5
Typ. Peak Isolation at 23 ℃ (dB)
65
Min. Isolation at 23 ℃ (dB)
55
Typ. Insertion Loss at 23 ℃ (dB)
0.8
Max. Insertion Loss at 23 ℃ (dB)
1.2
Max. Polarization Dependent Loss at 23 ℃ (dB)
0.2
Min. Return Loss (Input /Output) (dB)
45
Max. Average Optical Power (W)
20
Max. Peak Power for ns Pulse (kW)
10
Max. Tensile Load (N)
5
Package Dimension (nm)
150x28x26
Operating Temperature ( ℃ )
+10 to +50
Storage Temperature ( ℃ )
0 to +60
Notes:

The high power dual-stage optical isolator (1064nm, 1030nm, 980nm; polarization-independent) is customizable, and the above specifications are subject to change without notice.

For CW high-power optical interconnection, we recommend fusion splice without connectors.

For device with connectors, IL is 0.3dB higher, RL is 5.0dB lower.

Bare fiber should not support the weight of the connector. So that if any connectors needed, for the pigtail type it's better to choose the 900μm loose tube jacket instead of the 250μm bare fiber.


For product customization or special requirements, please contact Lfiber's sales department for availability

.
Package Dimensions

Ordering Information for Dual-Stage Optical Isolator (Polarization-Independent)
Center Wavelength
Stage Type
Fiber Type
Package Dimensions
Pigtail Type
Fiber Length
Connector
Average Power
Peak Power
1064nm
Dual-stage
HI1060
150x28x26 mm
250μm bare fiber
0.5 meter
None
500mW
10kW
1030nm
SMF-28e
Specified
900μm loose tube
0.8 meter
FC/UPC
1W
20kW
980nm
Specified
1.0 meter
FC/APC
2W
Specified
SC/UPC
…
SC/APC
5W
LC/UPC
10W
LC/APC
20W
Others