The high power dual stage PM isolator (1064/1030/980nm polarization-maintaining fiber optic isolator) is one of the most important passive components in fiber optic systems. It permits the flow of optical power in just one direction (the forward direction). At the same time, by using PM panda fibers it maintains a well-defined state of polarization (SOP) of the light. Applications include protection of a transmitting laser diode from back reflections. Such reflections increase the noise in the system by disrupting the diode's operation. The dual stage PM Isolator (1064nm, 1030nm, 980nm) also improves the stability of PM fiber amplifiers by minimizing the possibility of feedback, which causes unwanted oscillations in such devices. 

Related Products

↓
Applications of High Power Dual stage PM Isolator (1064nm, 1030nm, 980nm)
The 1064/1030/980nm high power dual stage PM isolators (1064nm, 1030nm, 980nm; double/multistage fiber optic isolator) are used in a wide variety of applications within optical systems. In most applications, laser light is sent to the device under test via various optical components. Therefore, back reflections (return lights) always occur in the various parallel optical surfaces and the end faces of the connectors, splices and other optical components. These unwanted back reflections have a destabilizing effect on the oscillation of the laser source and on the operation of fiber-optic amplifiers, thus resulting in poor transmission performance in the data lines. Lfiber's 1064/1030/980 nm dual stage PM Isolators are used to block the back reflections.
High Power Dual stage PM Isolator (1064nm, 1030nm, 980nm)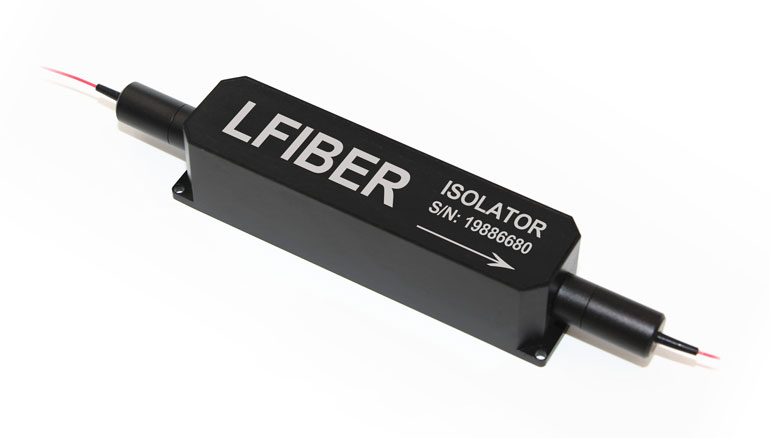 FEATURES OF HIGH POWER DUAL STAGE PM ISOLATOR
Polarization Maintaining

Low Insertion Loss

High Isolation and Return Loss


High Reliability and Stability



APPLICATIONS OF HIGH POWER DUAL STAGE PM ISOLATOR
PM Fiber Amplifier

Fiber Laser

Testing Instruments


Mopa Fiber Laser
Specifications of High Power Dual Stage PM Isolator
Center Wavelength (nm)
1064 or 1030 or 980
Operating Wavelength Range (nm)
±5
Typ. Peak Isolation at 23 ℃ (dB)
65
Min. Isolation at 23 ℃ (dB)
55
Typ. Insertion Loss at 23 ℃ (dB)
0.8
Max. Insertion Loss at 23 ℃ (dB)
1.2
Min. Extinction Ratio at 23 ℃ (dB)
20
Min. Return Loss (Input /Output) (dB)
45
Max. Average Optical Power (W)
20
Max. Peak Power for ns Pulse (kW)
10
Max. Tensile Load (N)
5
Package Dimension (nm)
150x28x26
Operating Temperature ( ℃ )
+10 to +50
Storage Temperature ( ℃ )
0 to +60
Notes:

The high power dual stage PM isolator is customizable, and the above specifications are subject to change without notice.

For CW high-power optical interconnection, we recommend fusion splice without connectors.

For device with connectors, IL is 0.3dB higher, RL is 5.0dB lower, ER is 2.0dB lower.

Unless otherwise specified, the slow axis of the fiber is aligned with the key of the PM fiber connector.

Operating on both slow axis and fast axis as standard, slow axis working and fast axis blocked available on request.

Bare fiber should not support the weight of the connector. So that if any connectors needed, for the pigtail type it's better to choose the 900μm loose tube jacket instead of the 250μm bare fiber.


For product customization or special requirements, please contact Lfiber's sales department for availability

.
Package Dimensions

Ordering Information for High Power Dual Stage PM Isolator
Center Wavelength
Axis Alignment
Fiber Type
Package Dimensions
Pigtail Type
Fiber Length
Connector
Average Power
Peak Power
1064nm
Both axis working
PM1550
150x28x26 mm
250μm bare fiber
0.5 meter
None
500mW
10kW
1030nm
Slow axis working and fast axis blocked
PM1310
Specified
900μm loose tube
0.8 meter
FC/UPC
1W
20kW
980nm
PM980
1.0 meter
FC/APC
2W
Specified
Specified
SC/UPC
…
SC/APC
5W
LC/UPC
10W
LC/APC
20W
Others